Do y'all remember when T.G.I.F was on tv? I used to soooo look forward to plopping down on the couch and vegging out all night. I have pretty similar plans for this weekend, rest and relaxation. Oh, and snuggles lots of snuggles.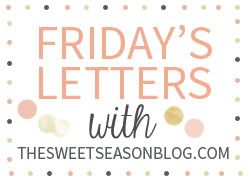 Today I'm linking up with the super talented Ashley for Friday's Letters.
Dear Husband
~ Thank you so much for being such a fantastic man this week. I couldnt have made it through without you. You were an amazing place of comfort to me, and youre a fantastic daddy.
Dear February
~ How did you get here so fast? Can you please bring some warmer weather with you?
Dear body
~ Please, please, please go back to normal.
Dear BK
~ You have no idea how much I love you. I am so blessed to have you as my daughter.
Dear Me
~ Time to get your booty in gear and get things organized for BK's photo shoot. Brush off those *wannabe* event planner skills and put together something amazing!
Dear real food
~ I am going to grub this weekend. Get.In.My.Belly.
And of course it is Dance Party Friday! Do y'all remember this song? Oh man I used to roll through my neighborhood with this song playing SO loud. #glorydaysofhighschool