Yesterday I had a job interview, my first interview in five years. To say I was nervous is a complete understatement, I mean I legit had an anxiety attack on Monday. It wasn't just that I was going to be interviewing for the first time in f.o.r.e.v.e.r, it was so much more than that. It was the idea that I would be leaving BK, that BK might be going to a preschool full time. She is smart, she is so ready for the interaction, BK would totally rock preschool. I would probably be the one suffering from serious separation anxiety. Is my little mama heart ready to give up my time with her? I mean I know it has to be done eventually, it's just wondering if "eventually" is right now.
And, to be completely honest I really fear failing. Putting yourself out there is hard. I don't think anyone truly enjoys feeling vulnerable, and that was exactly how I felt going into the interview. I fear failing. I fear
still
not knowing exactly what I want to do with the rest of my life.
So I survived the interview. I dressed up. I got some quality adult interaction. And it was good. I might not get the job, but I'm ok with that. And you know what, today I have another interview and this one I am actually really excited about. Wish me luck!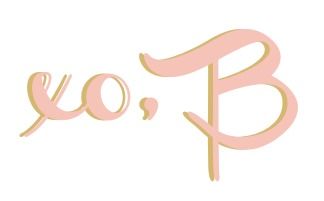 Check out my amazing sponsor: